What facial issues do injectable treatments address?
Wrinkles and lines in your face have two general origins. Both flaws result as a process of your skin aging, losing moisture, while no longer bouncing back as it once did. In some cases, this less elastic, drier skin sits over deeper skin tissue in the collagen layer that itself is aging, becoming cracked and irregular. Your skin falls into the voids, with lines and wrinkles resulting. These are called passive lines.
Their counterparts, active lines, result from the muscles in your face that produce expressions, particularly those on your forehead, the worry lines. Aging skin takes on the contours of these muscles which, through daily living, take on a near-constant state of contraction.
How are passive lines treated with injectables?
A class of injectable called dermal fillers corrects the issues underlying passive lines. Simply, injectables use a biocompatible gel to fill the spaces into which your outer skin sags. Dr. Bujak uses the Restylane range of dermal filler products to correct several passive conditions in your face.
Restylane uses hyaluronic acid, a substance already present in your skin for the attraction and storage of moisture. In a variety of gel formulations, Restylane products can:
Reduce the appearance of smile lines, lipstick lines, and other unwanted fine lines
Smooth and supplement your lips
Reduce the depth and appearance of passive crow's feet around the eyes
Restore contours around your jawline and chin
Depending on the product, a dermal filler can fill depressions in deep skin tissue, or these can add volume and fullness.
How are active lines and wrinkles treated?
Since the shape of the muscle is often the culprit with worry lines above your eyebrows, it's that shape itself that needs changing. This requires a different approach from dermal fillers.
Dysport uses a unique formulation that uses minute dilutions of the botulinum toxin to relax specific muscles that create the tense look of worry lines. Dysport's design leaves other muscles unaffected, so the "frozen" look of similar products is avoided. You'll likely see improvements in a few days; results last four months or longer before retreatment.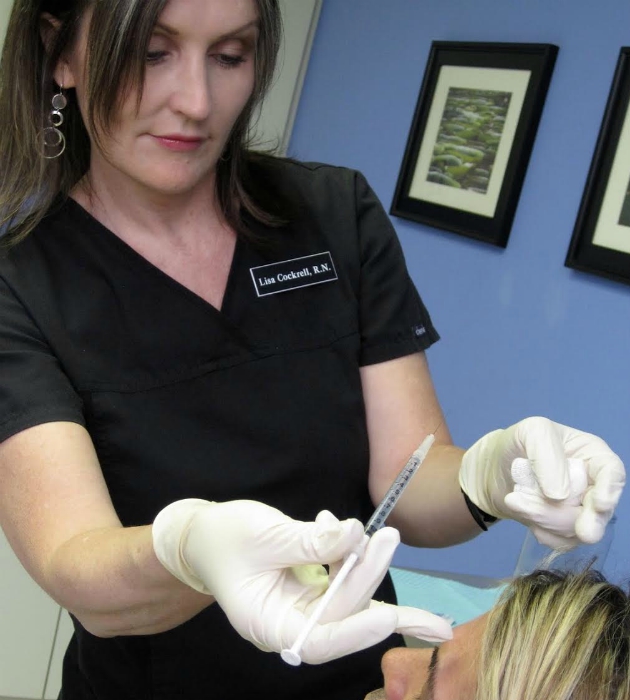 Lisa Cockrell, R.N.
Lisa Cockrell, R.N. is Certified as a Registered Nurse Injector by the American Society for Aesthetic Plastic Surgery and has been performing cosmetic injectables since 1999. She is also a National Trainer for Galderma®, and travels across the country teaching doctors and nurses her advanced techniques of cosmetic facial rejuvenation through the use of injectables.
Lisa first became interested in nursing while working as the off...ice manager for a group of reconstructive plastic surgeons in Dallas. She followed her heart and enrolled in El Centro College School of Nursing in Dallas in 1994, and graduated with her degree in 1998. She began her nursing career working for a cosmetic plastic surgeon, where she was trained to take over his cosmetic injectable treatments. When the popularity of her treatments suddenly grew to 20 patients a day, she helped establish a separate medical spa to accommodate patients looking for a non-surgical approach for full face enhancement.
In 2010, Lisa was contracted by pharmaceutical companies to begin training other medical professionals in correct injectable techniques. She moved to Arizona in 2011 and continues to teach in Arizona, California, and Hawaii, as well as treat her own patients in private practices.
Lisa's goal is to provide a refreshed, lifted, and more youthful look while maintaining a natural appearance. She offers Dysport® to minimize the muscle functions of the upper face which produce wrinkles of the forehead and the sides of the eyes. She also offers, Restylane®, Restylane Defyne, Restylane Refyne and Restylane Silk® to smooth facial wrinkles and restore shape to the lips for a more youthful look, and Restylane Lyft® as a nonsurgical "liquid facelift" to restore the volume of the cheeks and lower face.